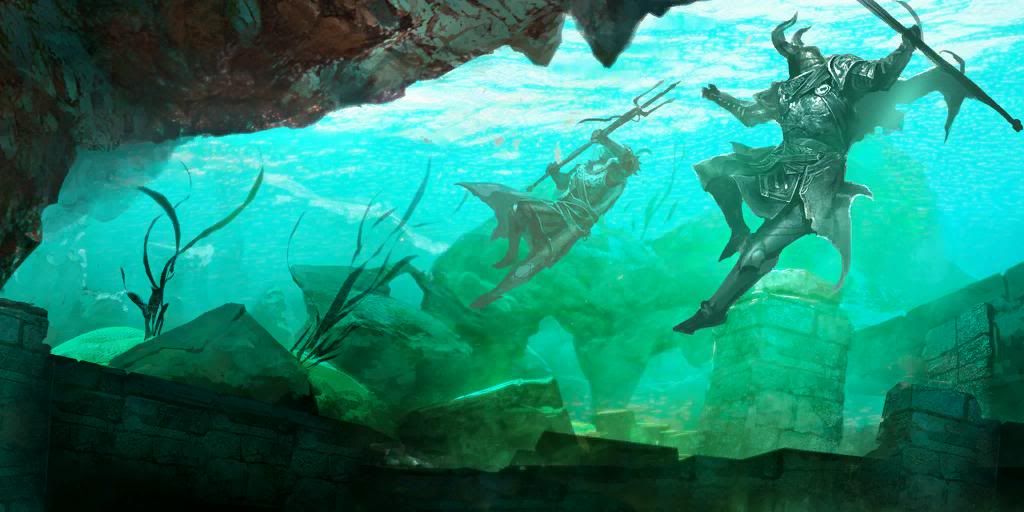 We have a great deal to talk about today. We have the first video of a mid-level dungeon, a false report, leaked details of the mysterious fourth sPvP map, newly released cash shop items, the results of a rather revealing poll over at IGN, and an image I just can't figure out.
There is also a stress test taking place from 3-7 EST tomorrow that was announced only moments ago.
First, we have PCgamer's footage of Twilight Arbor, a level 50 dungeon in Guild Wars 2. Remember, we have never seen any gameplay of a dungeon outside of Ascalonian Catacombs, so this is the first time we've seen anything like this. It's also very significant lore-wise. This is Caithe's attempt to once in for all end her ex-lover Faolian's reign, who rules over the Nightmare Court. What's also very interesting is that we see for the first time, we see Logan interacting with other members of Destiny's Edge. As many of you know, Logan is not looked highly upon by several of his former friends for deserting them in the middle of their fight with Kralkatorrik.
Second, a very interesting post was released on a Portuguese Guild Wars 2 fan site. It claimed that ArenaNet members present at Gamescon mentioned several key points. Among the most incendiary was the claim that the endgame for Guild Wars 2 was not completed yet, and that PvP mode of GvG was confirmed post-launch. After several hours of fans arguing over nearly every Guild Wars 2 themed forum, ArenaNet directly addressed the original post as "misinformed at best and a lot of it totally false". I would be lying if the original article did not make me nervous, and I'm very thankful that ArenaNet placed my worries to rest.
The article can be found
here
if you are interested.
Thirdly, we have a set of images revealed to me by one of our commenters, Finit. I'm not really sure where he found these, but they tie in to the fourth and final sPvP map before launch. Both of these images are consistent with the belief that the last map will be nautical themed with a pirate ship in the center of the map.
The possible loading screen is shown at the top of the page, and the image of the map is shown below.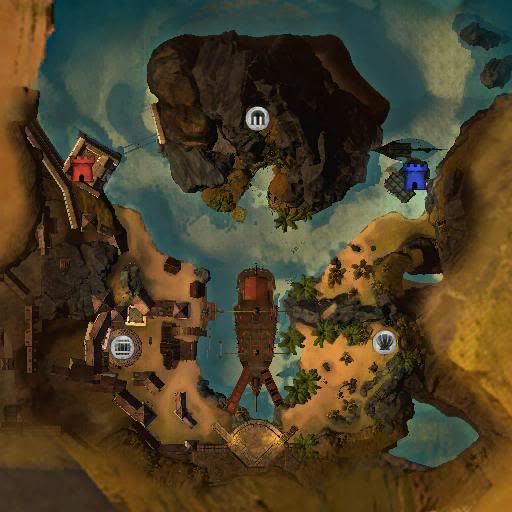 Three cash shop armor sets were revealed today, and Youtube user, Dontain, has a very nice video detailing each set. Each set parallels clothing sets that were released in the original Guild Wars. The primeval set is heavy, Krytan is medium, and the profane is for light classes. I'm definitely feeling the primeval and Krytan sets. The profane...yeah...not so much. Each is reported to cost 500 gems.
And finally, IGN was holding a
contest
from the games shown at Gamescon this year. This was their annual People's Choice Awards, and 50 games went head to head competing for our attention. In attendance was of course Guild Wars 2, but also World of Warcraft: Mists of Pandaria, the latest FIFA, Assasin's Creed 3, Resident Evil 6, Tomb Raider, and Planetside 2, all of which have massive playerbases. So with great satisfaction, I can tell you that Guild Wars 2 won with nearly a quarter of the votes. Congrats ArenaNet!
In an unrelated note, amongst the large amount of images circulating from leaks is this beautifully done concept art. It resembles the structure of ancient, gothic chapels, and there almost appears to be ghosts layered into the foreground. And then of course the other major clue is that there appears to be snow and mountains in the background. Does anyone have any idea what this might be of and where in-game it might be? Thanks!